A source of inspiration for the producers of the global block-buster Avatar who filmed the movie in China's Zhangjiajie area, Hunan province has held sway over scores of tourists and visitors alike due to its majestic surroundings and natural wonders. A mere 4 hours drive from Changsha, Zhangjiajie is among the many interesting sites in Hunan which is easily accessible. Listed below are among the other key attractions.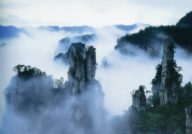 ZHANGJIAJIE
Zhajiajie, in the northwest of Hunan, is recognized as "a rarity; a charming belle in the boudoir" by the famous Chinese painter Wu Guanzhong. As China's first national forest park, it is characterized by unique hills, stark ridges and peaks, tranquil valleys, streams and abundant plant and animal life.
Unique spots include the breathtaking Cloud-Picking Terrace, the outstanding Yellow Lion Village, the great Golden Whip Crag, the clear Golden Whip Stream, the dilapidated walls of Yangjiajie, the impressive Mt. Tianzi, the singular Suoxi Gully, the beautiful Maoyan River, the stalwart Mt. Tianmen and the mystical Jiutian Cave.
Tourists take great delight in visiting Puguang Temple, Yuhuang Cave and other breath-taking attractions, in addition to observing the unique customs of the local ethnic people. The area also boasts rare plants and flowers, including the Chinese dove tree, Chinese tulip tree, ginkgo and five-colored flower.
YUEYUAN PAVILION
Yueyang Pavilion is an ancient architectural treasure located on the bank of Dongting Lake in Yueyang City, Hunan Province. The structure is one of four famous Chinese pavilions. The others are Tengwang Pavilion in Hubei Province, the Yellow Crane Tower in Jiangxi Province, and Penglai Pavilion in Shandong Province.
DONGTING LAKE
China's second-largest freshwater lake is located in northeastern Hunan Province. Its large, shallow body of water is surrounded by mountain ranges. Concentric ridges of land appear in the lake in many areas seasonally. Acting as a flood basin for the Yangtze River, Dongting Lake changes its appearance throughout the seasons, and sometimes over the course of a single day. Many ancient Chinese poets and authors have been inspired by the beauty of Dongting Lake.
PHOENIX TOWN
Feng Huang Cheng is situated on the western boundary of Hunan Province in an area of outstanding natural beauty where mountains, water and blue skies prevail. This is a world where the color green predominates. The mountain slopes are covered with green foliage, the fields are green, and even the Tuo Jiang River reflects the greenery. The bridges over the water and the houses on stilts display a harmony that has long been portrayed in traditional Chinese paintings. This is particularly true when mist pervades the scene in the early morning or after a rain. It soon becomes apparent that the claim to being